Little Bang Discovery
The Little Bang Discovery Club program is now being delivered completely online! Do you have a curiosity for science? Do you find yourself asking 'what would happen if...?' From musical coat hangers to kissing balloons, join in on a variety of fun, interactive table top experiments to excite your senses and embrace your inner scientist.
Little Bang Discovery Club: noticing, sorting, naming, collecting, comparing, questioning and testing...experiments! An introduction to how science really works for pre-schoolers aged 3 to 5 years or children in the first year of school to Year 2, with an adult co-learner.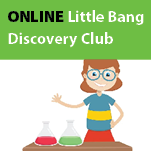 Little Bang Discovery Plus: the follow-on program to Little Bang Discovery Club. Each session we explore a different scientific topic and practise new discovery skills. This club contains up to eight new sessions.