Adobe Digital Editions
Create an Adobe ID
You will need the Adobe Digital Editions software to read a Borrow Box eBook on your computer or transfer it to your eReader device. This is because Adobe software handles the digital rights management of copyrighted works. An email address is necessary to obtain an Adobe ID.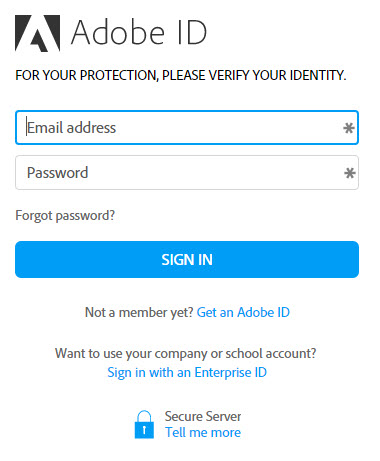 Click 'Get an Adobe ID'
Fill out all the required details such as name and email address, and agree to the terms and conditions
Whats Next?
You now have an Adobe ID (see above). If you are using an eReader you will need the free Adobe Digital Editions (ADE) software on your computer. Read on for help with this..
Adobe Digital Editions
System requirements: Check the ADE system requirements here.
Ready to download the free software? Go to the ADE download page and follow the prompts to perform the installation.
Authorising Your Computer
If you aren't prompted to authorise ADE the first time you open it, you can go to Help > Authorize Computer to start the process manually.
If you have an Adobe ID, enter it along with your password.
If you do not have an Adobe ID, see steps above to Create an Adobe ID. Once you're done, return to the 'Computer Authorization' dialog box and enter your Adobe ID and password.
Click Authorize. Your computer is now authorized with your Adobe ID.
Note: If you choose to authorize your computer without an ID, you will still be able to view eBooks on your computer. However, you will not be able to transfer or download those titles to other devices.
Troubleshooting tip: If your Adobe ID is not properly recognized when downloading or transferring titles, try clearing the Adobe ID following the steps below, then reauthorizing your computer.
Clearing the Adobe ID
Open ADE
Depending on your operating system, do the following:
Windows: Press CTRL + SHIFT + D on the keyboard.
MAC: Press CMD + SHIFT + D on the keyboard.
When prompted, click Erase Authorization.
When the process is complete, click OK to close the dialog box and return to ADE.
Note: The next time you try to download a newly checked out library book, you will automatically be prompted to authorise your computer.