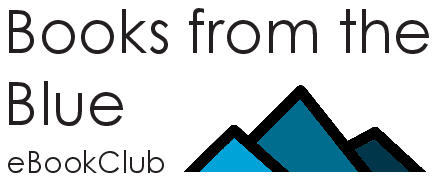 Books from the Blue is the Library's eBook club. Each month we will promote an eBook for you to download, so that you can participate from the comfort of your own home. We will have a special monthly digital event where we explore our featured title. It may be a video, a webinar, author talk, or extra resources. Our eBookClub eBooks will be available to download through Libby and will always be available during the promotion period - no waitlists, no holds.
You can also use our featured eBook for your own book club. There is no limit to the number of people who can borrow at one time. Join our monthly events to enhance and enliven your reading experience.
August 2022 - Together We Read featuring author Jacqui Byron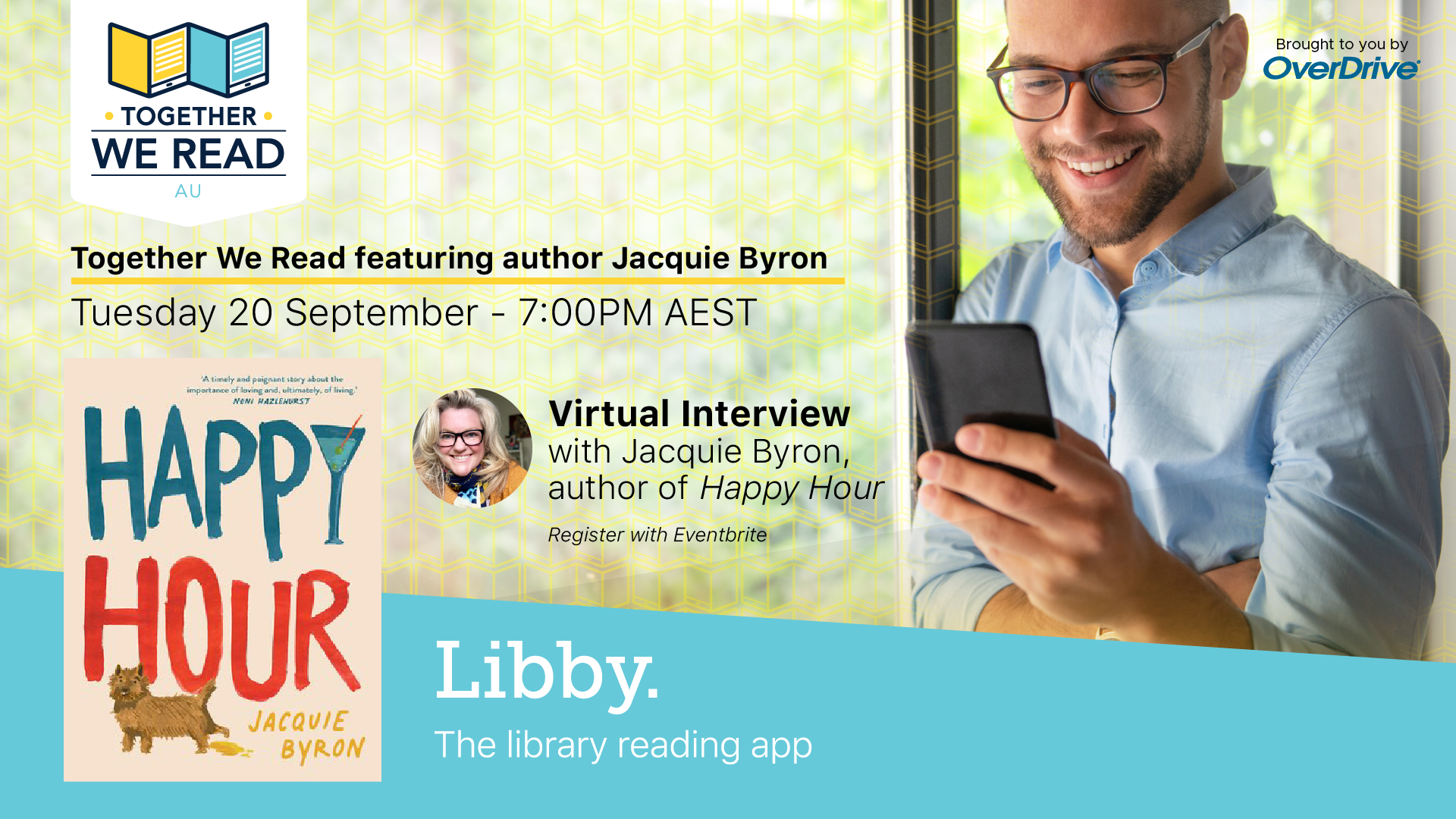 Together We Read featuring Jacquie Byron, Tuesday September 20th, 7.00pm
Eventbrite: Together We Read featuring Jacquie Byron Eventbrite
Link Zoom Link: Together We Read featuring Jacquie Byron Zoom Link
About the Book

One woman, two dogs, and a lot of gin: Happy Hour is a book about how new friends can become new family, but old friends should never be underestimated. It's about a woman who decides she's had enough of life only to learn that's not her decision to make. It's about freedom, dependency, grief, and forgiveness. And it's about getting older but not necessarily wiser, and very rarely nicer. Gin in one hand, paintbrush in the other, Franny Calderwood has turned her back on the world, at least the world she used to know. At 65 her beloved Frank is dead, mowed down by an ice-addled driver. Franny lives a life of decadent seclusion, until the Salernos move in next door. A troubled but charming trio made up of beleaguered mother Sallyanne, angry teenager Dee and eccentric eight-year-old Josh, the family manage to breach Franny's fortress, literally and figuratively; it's hard to enjoy your Tanqueray when someone's either crying or yelling over the garden fence. In their own way, each Salerno is captivated by their witty, cantankerous neighbour, especially Dee, who admires the older woman's self-confidence and independence. None of them see the pain lurking behind Franny's intoxicating (and often intoxicated) screw-the-world persona. Franny's flamboyant drinking habits lead to trouble, and there is an element of pain lurking behind Franny's intoxicating (and often intoxicated) screw-the-world persona. No longer defiant, she now seems defeated. The Salernos withdraw just as Franny finds herself in the intolerable situation of needing temporary care.

About the Author

As a professional writer–journalist, copywriter and publicist–for more than 20 years, Jacquie Byron has been a voyeur of many different worlds. Her work for newspapers, magazines and custom publishing has taken her from the glamour of pop princesses to the mystique of light commercial vehicles. Her most recent newspaper feature explored Australian crime writers' success internationally and in 2016 she was shortlisted for the Victorian Premier's Literary Award.  She lives in Melbourne with her husband and pets, including Whisky the cairn. During Melbourne's COVID lockdown she Instagrammed daily escapades of her 88-year-old mother who moved in for the duration (#coronaclubliving). She was benevolent dictator of The Mrs Underhill Book Club for a decade plus.
Previous eBookclub Titles