"In my world there would be as many public libraries as there are Starbucks."

Henry Rollins
Locations, Hours & Contacts
Easing Restrictions
Services and Branch Information
Quarantining and Health Safety During COVID-19
All returned items will be quarantined for 72 hours prior to being replaced into the collection.
However, whilst we are working hard to put health safeguards in place, you should evaluate your individual health situation before visiting our spaces and/or borrowing items from the public collection.
Please observe signage and appropriate social distancing during your visit.
Please consider others and do not enter our premises if you are feeling unwell and/or have flu or cold-like symptoms.
Contact Tracing Visitor Record
As a condition of entry to a Library branch, you will be required to provide your name and contact details. This is for contact tracing purposes only. This information will be stored for 28 days after which time it will be destroyed.
From 20 July 2020
Springwood Library Opening Hours:
Mon to Fri 10am to 5pm | Sat 10am to 4pm
Katoomba Library Opening Hours:
Mon to Fri 10am to 5pm | Sat 10am to 4pm | Sun 12pm to 4pm
Blaxland Library:
Mon to Fri 10am to 5pm
All other Library Branches and Book Express remain closed until further notice.
'Keeping it Short and Sweet'
Blue Mountains Library is pleased to announce that from 20 July Springwood, Blaxland and Katoomba libraries will be open as above.
However, as numbers in branches are limited, we're asking that your visits are 'short and sweet' so we can help everyone out!
Additionally, we need to let you know that, due to social distancing, our staff may not be able to be as 'hands-on' as normal with troubleshooting for PCs, Copying and Printing. These services will be predominantly DIY and, if you feel that you may need assistance, you can request cheat sheets from the Librarians or we recommend bringing a knowledgeable friend!
The following services will be available:-
Browsing and Borrowing
You can now enter a branch and make your own selections as normal. Normal borrowing and holds periods apply. See our loans information for details.
Returning Items
Book bins are open for returns at all branches that remain closed.
Springwood Library: no over-the-counter returns, all returns via book bins.
Blaxland Library: no over-the-counter returns, all returns via book bins.
Katoomba Library: no over-the-counter returns, please use trolleys provided in branch.
Computers
Computers are available for half an hour per customer (applies to members and guests). During this phased reopening, time extensions are not possible.
WiFi
WiFi is available but limited to half an hour usage per person.
Printing Services
Printing from Public PCs and Wireless printing is available as usual.
Copying and Scanning
Both services now available but please see above as these will be predominantly DIY services due to social distancing requirements.
Springwood Central Library




104 Macquarie Road, Springwood




Phone: (02) 4723 5040

Monday

10:00am - 5:00pm

Tuesday

10:00am - 5:00pm

Wednesday

10:00am - 5:00pm

Thursday

10:00am - 5:00pm

Friday

10:00am - 5:00pm

Saturday

10:00am - 4:00pm

Sunday

Closed
Katoomba Library




Blue Mountains Cultural Centre




30 Parke St, Katoomba




Phone: (02) 4780 5750

Monday

10:00am - 5:00pm

Tuesday

10:00am - 5:00pm

Wednesday

10:00am - 5:00pm

Thursday

10:00am - 5:00pm

Friday

10:00am - 5:00pm

Saturday

10:00am - 4:00pm

Sunday

12:00pm - 4:00pm
Blaxland Library
33 Hope St, Blaxland
Phone: (02) 4739 4284

Monday

10:00am - 5:00pm

Tuesday

10:00am - 5:00pm

Wednesday

10:00am - 5:00pm

Thursday

10:00am - 5:00pm

Friday

10:00am - 5:00pm

Saturday

Closed

Sunday

Closed
Lawson Library


Closed until further notice


Cnr San Jose Ave and Loftus St, Lawson




Phone: (02) 4780 5903

Monday

1:00pm - 5:00pm

Tuesday

1:00pm - 5:00pm

Wednesday

10:00am - 5:00pm

Thursday

10:00am - 5:00pm

Friday

10:00am - 5:00pm

Saturday

9:00am - 12:00pm

Sunday

Closed
Wentworth Falls Library


Closed until further notice


School of Arts Building




Great Western Hwy, Wentworth Falls




Phone: (02) 4780 5902

Monday

1:00pm - 5:00pm

Tuesday

10:00am- 2:00pm

Wednesday

Closed

Thursday

1:00pm - 5:00pm

Friday

10:00am- 2:00pm

Saturday

9:00am - 12:00pm

Sunday

Closed
Blackheath Library


Closed until further notice


Community Hall




Great Western Hwy, Blackheath




Phone: (02) 4780 5901

Monday

10:00am- 2:00pm

Tuesday

1:00pm - 5:00pm

Wednesday

Closed

Thursday

10:00am- 2:00pm

Friday

1:00pm - 5:00pm

Saturday

9:00am - 12:00pm

Sunday

Closed
Book Express


Closed until further notice

Springwood Railway Station

Monday

6:15am - 8:00am

Thursday

6:15am - 8:00am

Katoomba Railway Station

Tuesday

5:45am - 7:30am
Katoomba After Hours Returns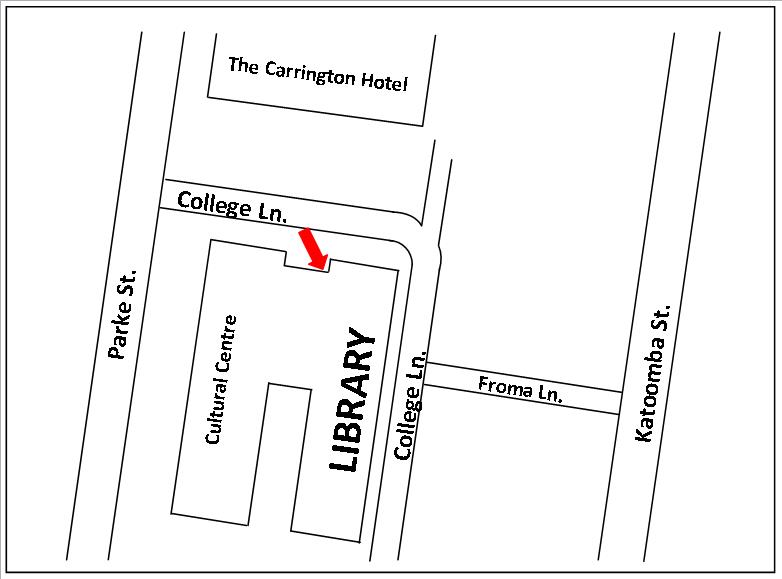 Springwood After Hours Returns